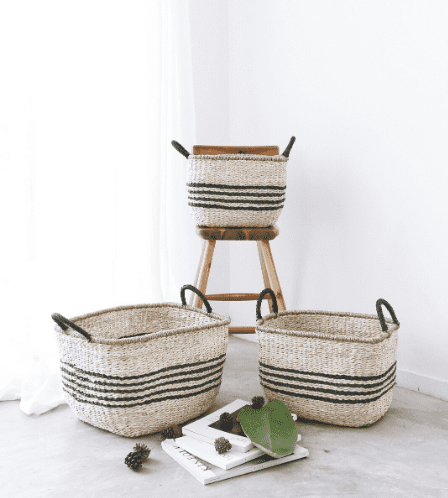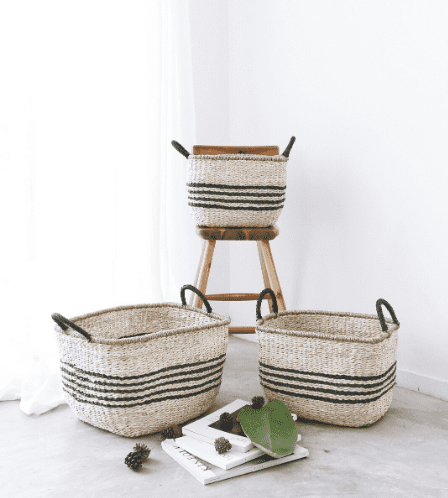 Greenery Natural Stripes Basket 11
Material:
Palm Leaf, Seagrass
These beautiful storage baskets are handwoven by Vietnamese artisans and made of purely natural seagrass and palm leaf fibers. They make perfect planters for your indoor space and they look fantastic as indoor decor, keeping everything from towels to newspapers, magazines, and scarves tidy.
SIGN IN TO CHECK PRICE
Colors:
Natural Green, Natural White
Concepts:
Highlight Stripes, Mini, Xmas
Popular Sizes:
S: 32/24 x 25/15 x H23/31, M: 37/29 x 29/21 x H26/34, L: 44/33 x 33/26 x H 28/39
Handcrafted in vietnam:
Proudly handcrafted in Vietnam
This seagrass basket with handle can provide an extra organized storage for your clothes and towels or your child's toys. It can also be used flexibly as a special natural container in your minimal living room or kitchen. Get your home a unique and trendy look with this decorative handwoven basket as enjoying its natural fibers smell and rough texture.
By this seagrass baskets we hope it can help you enjoying the green-living as bringing the eco-vibe which is motivated by the nature-oriented pantone – Greenery.
Please note that as the natural products are completely handmade from seagrass, this traditional natural fibers baskets may have slight differences in size, shape and color from the shown images.