100% Handmade Rectangle Collapsible Woven Basket
Material:
Palm Leaf, Water hyacinth
Product Description
Classic and high-quality collapsible woven basket
Our collapsible woven basket is extremely portable, highly functional, and versatile because they are designed to be foldable with stitched-in handles. When you're done, simply fold and store these storage baskets after moving them from room to room.
At Viet Trang, we choose natural grasses that are completely eco-friendly to use in basket weaving. Seagrass or water hyacinth will be dried naturally in the sun after being gathered and cleaned thoroughly, retaining the natural and characteristic color of seagrass.  All of them promote a green lifestyle and one that is beneficial to consumers' health. And the collapsible woven basket will have the user that way.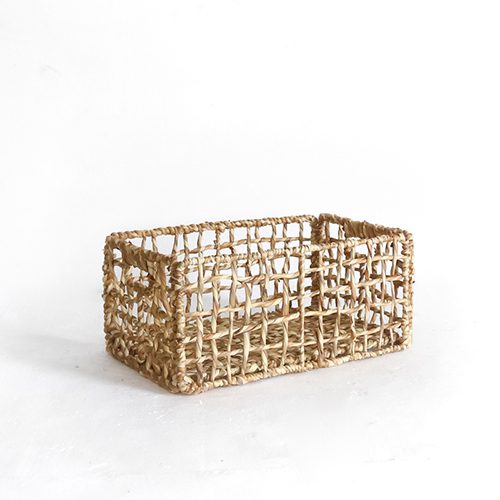 The collapsible woven basket – the sustainable alternative to plastic baskets
Our natural collapsible woven basket is an excellent substitute for plastic storage bins or boxes since it can carry and conceal a wide variety of goods and is attractive enough to go with any design. 
There is no need to tuck them away; instead, use them to organize your living room or keep them on the kitchen table to hold your accessories or even some fruit. If you are into boho, farmhouse, or coastal décor, these collapsible woven basket are perfect for users.
Our product is the artistic design that brings a fresh feeling to your home
The combination of classic and modern appears in this handwoven collapsible basket. It is designed with simplicity and style in mind, to be both functional and aesthetic while taking up minimal space. Keep your living room looking clean and tidy by storing the kid's toy in a basket.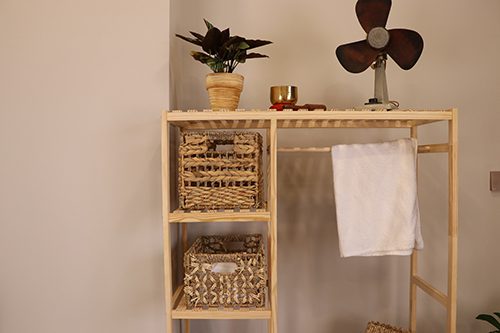 This basket has a rectangular shape with a sturdy frame and carefully woven water hyacinth and palm leaf. This will make it durable and give a more fresh feeling to your corner. As an original form, they are firm with ingenious patterns, and when folded, it saves a lot of space. 
We aspire to provide clever and practical goods that can fit into even the smallest spaces while generating a sense of peace with the correct design concept.
Make storage and organization simple with this collapsible woven basket
We want to share one more interesting piece of information with you: Our foldable products were photographed in our factory by unprofessional staff during the quarantine period. We are inspired by the peaceful rhythm of life of  the artisans.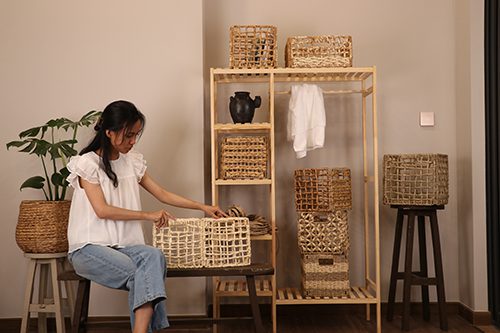 The woven basket will help add softness, color, and depth to your space, whether you put it in your living room, bedroom, bathroom, or entryway. The naturally occurring water hyacinth fibers are perfect for magazines, books, toys, blankets, cushions, or towels. They are sustainably sourced, mix with any design, and include braided handles for easy lifting. 
A handwoven collapsible basket is the ideal option for maintaining your space's cleanliness and organization while enhancing the appearance of your living room or other indoor living areas.
For collapsible woven basket wholesale, Viet Trang can offer:
–        100% handmade from eco-friendly materials
–        Domestically sourced from Vietnamese farmers nationwide
–        Handwoven by weavers from Nga Sơn Villages, Thanh Hoa province.
–        Non-toxic and sustainably produced.
–        Customizable based on clients' requirements.
Viet Trang wants to deliver the highest-quality products to our partners and make a beneficial influence on the environment through our collapsible woven basket. This is done through a professional approach and dedication when manufacturing products. 
Particularly, Viet Trang is prepared to develop sample products in accordance with individual customer specifications. Utilizing a group of talented artisans that are always producing and innovating to better their abilities. 
The quality and design are fully guaranteed by Viet Trang to meet customer expectations and descriptions.
Please note that as this collapsible woven basket is completely handmade from natural materials, these environmentally friendly handbags may have slight differences in size, shape, and color from the shown images.
Read More