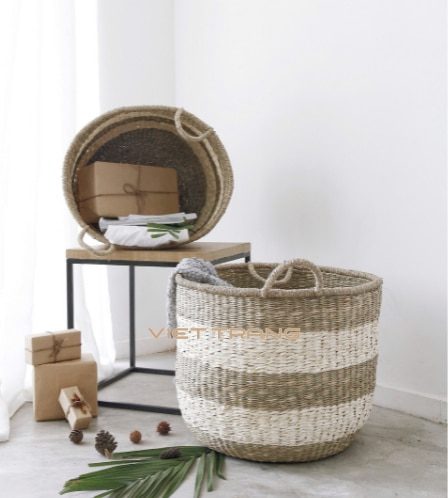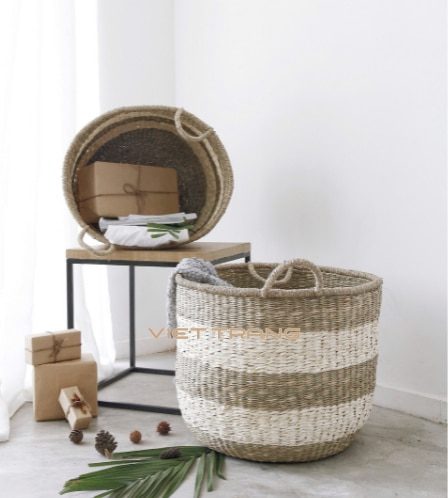 [Best Selling] Greenery Seagrass Storage Basket With Handles 05
Material:
Palm Leaf, Seagrass
Give your home a contemporary look with this beautiful seagrass storage basket with handles 05. Beautifully organize your home with the minimal and versatile large seagrass basket handles made of fiber with artisanal technique from Vietnam
SIGN IN TO CHECK PRICE
Colors:
Natural Green, Natural White
Popular Sizes:
S: 30 x 30 x H30, M: 35 x 35 x H35, L: 40 x 40 x H40
Handcrafted in vietnam:
Proudly handcrafted in Vietnam
Minimally and beautifully organize your home with the versatile seagrass storage basket with handles 05. Place it in the bathroom as a seagrass laundry basket or applying in the bedroom for your pillow and blanket. This seagrass storage basket with handles 05 can add a tidy and green look to your sustainable lifestyle also highlighting your minimal living space.

By this natural fibers basket design, we hope it can help you enjoy the green-living as bringing the eco vibe which is motivated by the nature-oriented Pantone – Greenery.

Please note that as our woven seagrass basket are completely handmade, this environmental palm leaf basket may have slight differences in size, shape, and color from the shown images.