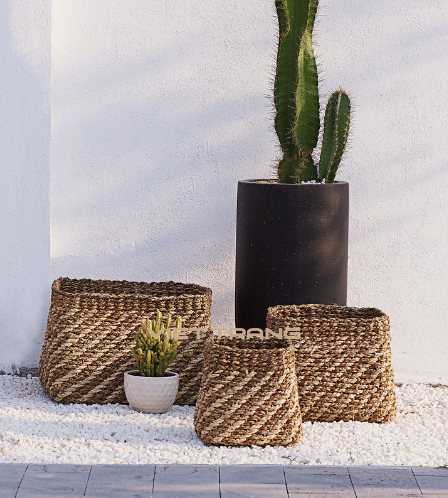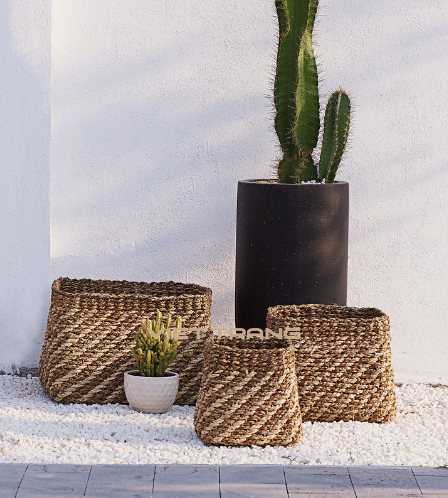 Oasis Seagrass Storage Basket 26 Wholesale
Material:
Corn husk leaf, Seagrass
If you are looking for a minimal vibe for your home, try this seagrass storage basket 26. This seagrass storage basket 26 have never gone out of style as they bring a fresh natural vibe to your living space.
This unique square seagrass basket is made of natural fibers. It is a stunning ethnic piece to decorate any interior room or covered outside room. An all-woven seagrass basket perfectly suitable to de-clutter a room or to store towels, plaids or other home stuff.

SIGN IN TO CHECK PRICE
Colors:
Natural Brown, Natural White
Concepts:
Highlight Stripes, Metal Frame
Popular Sizes:
L: 44 x 44 x h28 M: 34 x 34 x h26 S: 24 x 24 x h24
Handcrafted in vietnam:
Proudly handcrafted in Vietnam
The set 3 of seagrass storage basket 26 can be the perfect eco-friendly home interior that you need for the living room, bedroom or even your storehouse.

Inspired by a beaming oasis, we hope you can enjoy the green-living vibe you have always wanted with our natural seagrass baskets. After a rushing day at work, it is high time to come home and find peace with the Oasis.

Please note that as the natural products are completely handmade from seagrass, these natural baskets may have slight differences in size, shape and color from the shown images.