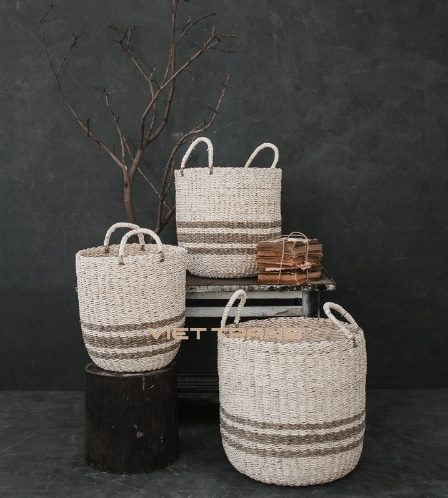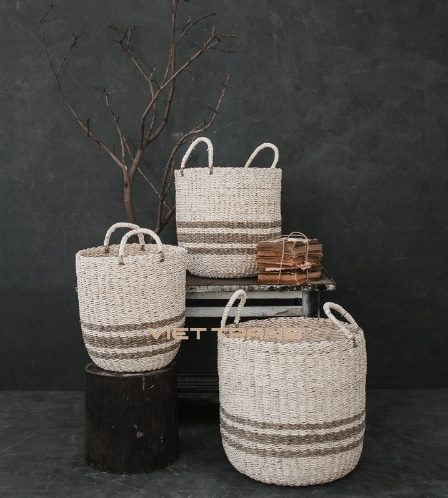 Natural colors Seagrass Clothes Storage Hamper
Material:
Palm Leaf, Seagrass
This set of seagrass laundry hamper with handles 04 is in the right size for a laundry hamper. The woven baskets are made of palm leaf and seagrass fiber, with the simple pattern that works in nearly any room or setting.
Colors:
Natural Green, Natural White
Concepts:
Highlight Stripes, Mini, Xmas
Popular Sizes:
L: Dia 40 x H40, M: Dia 35 x H37, S: Dia 30 x H34
Handcrafted in vietnam:
Proudly handcrafted in Vietnam
This authentic storage basket is 100% useful for your daily lives thanks to its flexibility in containing pieces of stuff from home gadgets, old books to kids' stuff. An elegant basket for your home green corner, why not? This natural item is purely hand weaved from the finest twisted strings of seagrass and palm leaf by our female artisans.
Being inspired by the Wabi-Sabi philosophy – finding beauty in the imperfections and appreciating the simplest thing in life, we hope this delicate storage basket can bring you back to nature as being an essential indoor basket in your daily life.
Please note that as these natural home interiors are completely handmade from homeland fibers, the products may have slight differences in size, shape, and color from the shown images.