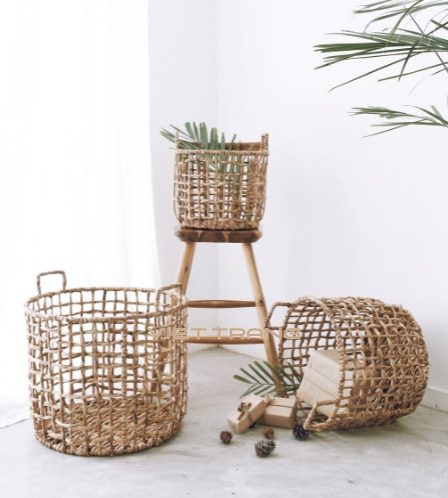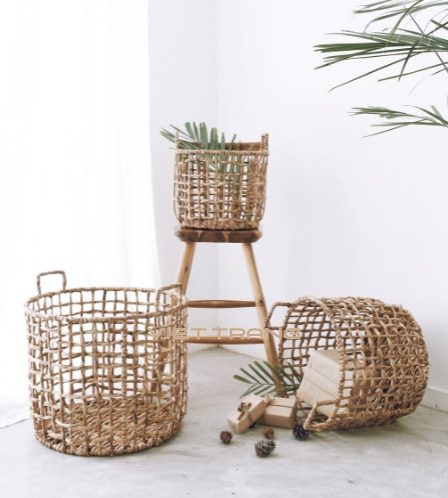 Natural Brown Storage Basket for Home Decor
Created in 3 sizes for easy placing in every corner of your home, with strong construction from the metal frame and twisted fibers. This water hyacinth storage basket 21 made from water hyacinth s handwoven by skillful local women in the North of Vietnam
Concepts:
Classic, Metal Frame, Open Weave
Popular Sizes:
L: Dia 43 x H34, M: Dia 35 x H28, S: Dia 30 x H24
Handcrafted in vietnam:
Proudly handcrafted in Vietnam
Being built with a metal frame and purely natural materials, this water hyacinth storage basket 21 has very strong construction that brings the modern storage solution as well as bringing the natural touch to your minimal home. Place it in the bathroom as a laundry basket or applying in the bedroom for your pillow and blanket. You can also organize the plants into this natural garden storage to connect your urban lifestyle with the green-living.
By this handmade basket, we hope it can help you enjoy the green-living as bringing the eco-vibe which is motivated by the nature-oriented Pantone – Greenery.
Please note that as our products are completely handmade from seagrass, this water hyacinth storage basket 21 may have slight differences in size, shape, and color from the shown images.