Best Choice Decorative Woven Basket Planter
Material:
Seagrass, Water hyacinth
Product Description
Planter basket round shape with handles
Decorate your beloved home with this trendy item now! If you are a green lover, this fashionable
woven basket planter
will definitely help you decorate your home and garden in a better way.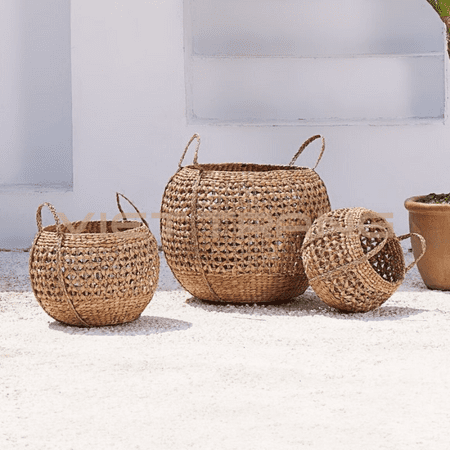 Trendy design with cross patterns combined seagrass & water hyacinth
Woven from two natural materials, this wicker planter basket has two natural shades of colors that fit in your house in any corner and in any style. On two sides, the woven planter is supported by two strong handles. These handles are very sturdy that can help you to easily hold, carry and transport the item everywhere you prefer.
Planter basket from water hyacinth & seagrass – sustainable materials
Seagrass and Water Hyacinth are both plants that generate natural fibers used in handicrafts. Both of these natural fibers are quite popular in the market since they are used to manufacture a wide range of products from homeware to fashion. 
They are gathered, chopped, and dried with nearly the same process before being woven into any final products such as baskets, rugs, or handbags. This also leads to many consumers mixing up seagrass with water hyacinth woven products. In fact, they have certain different characteristics that we should be aware of.
Viet Trang' woven basket planter is perfect for a variety of home decor
Whether you are a Scandinavian follower, a Rustic lover, or a Minimal style bias, a planter basket will add to your house an ambient atmosphere.
Besides the benefit of aesthetics, this wicker planter basket in a round shape supports a mindful living style that cares about the owner's living space as well as the natural environment.
Although this handwoven planter basket is made from natural materials, its durability is undeniable. You can use handcrafted items for as long as you wish. They may slightly change in terms of colors but they still perform well and keep their shape like new.
A multifunctional item – a planter for decoration & a basket for home storage
As a wicker woven basket planter, this handwoven item can protect your plant pot and gives an aesthetical feeling to your living space.

As a woven basket, this item serves whatever purposes you want: store clothes, books, and your kids' toys, …
You can also use this basket in your dining area and save ingredients or kitchen tools.
This wicker planter basket is offered in three sizes: S, M, and L. Therefore, you have several options from our woven basket planter to choose from and decorate your beloved home with trendy and sustainable items.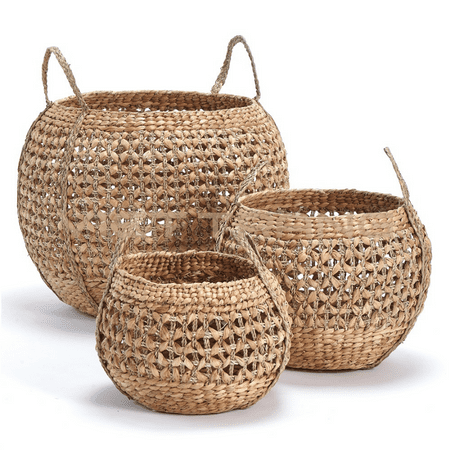 For woven basket planter wholesale, Viet Trang can offer:
 100% handmade from eco-friendly materials

Domestically sourced from Vietnamese farmers nationwide

Handwoven by weavers from Nga Sơn Villages, Thanh Hoa province.

Non-toxic and sustainably produced.

Customizable based on clients' requirements.
Viet Trang wants to deliver the highest-quality products to our partners and make a beneficial influence on the environment through our
woven basket planter
. This is done through a professional approach and dedication when manufacturing products.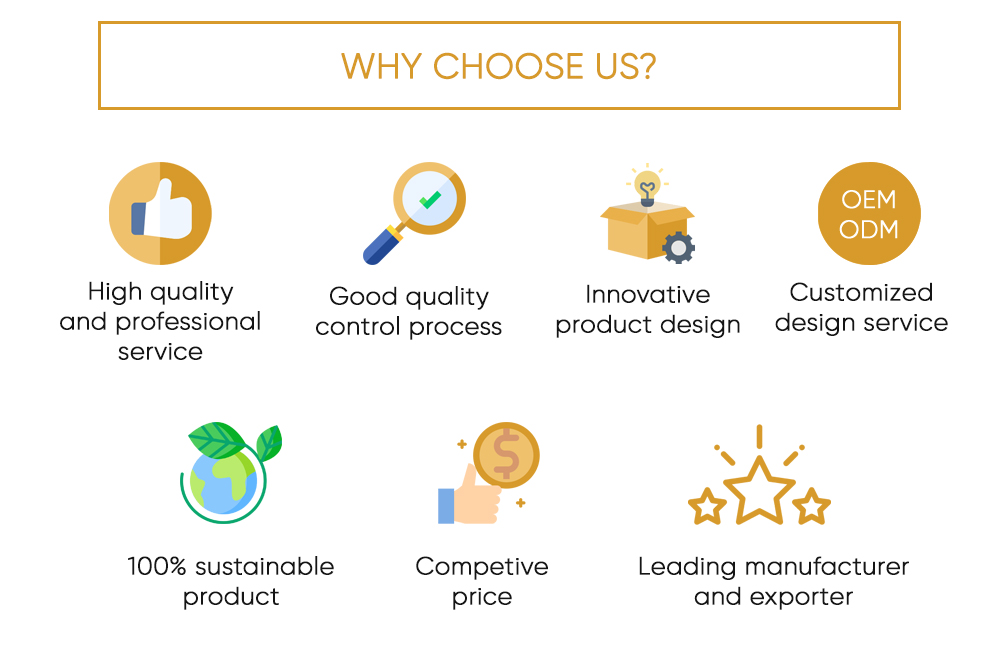 Besides woven basket planter, particularly, Viet Trang is prepared to develop sample products in accordance with individual customer specifications. We utilize a group of talented artisans that are always producing and innovating to better their abilities. The quality and design are fully guaranteed by Viet Trang to meet customer expectations and descriptions.
Please note that as this woven basket planter is completely handmade from natural materials, these environmentally friendly handbags may have slight differences in size, shape, and color from the shown images.
Read More