Fashionable Baskets Handbags Wholesale For Women
Product Description
Fashionable baskets handbags from leading manufacturers
Tired of ordinary cloth bags or leather bags- try these natural fiber handbags instantly! With a mild contemporary look to make your days more stylish and joyful, this beautiful long-strap handbag can carry all your belongings for daily use.
Natural Basket bags are slightly more delicate by nature of their design, the modern iterations, and the natural fibers materials that will make them last a little longer despite your daily wear-and-tear.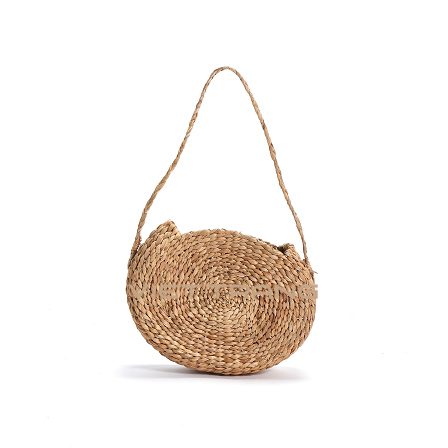 Our fashionable baskets handbags represent simplicity, sustainability and aesthetics
The style that generally comes to mind when considering a summer bag is a basket bag.
In addition to those who need a suitable accessory for going about their everyday chores (i.e. a work bag of sorts), basket bags also appeal to those who want to nail the cottage come trend
One of our most popular bags is by far this fashionable baskets handbag. It has an oval form and attaches woven straps and is made of water hyacinth. The beautiful handwoven pattern is double-layered and has a silky, opulent feel about it. You'll adore the bag's size and timeless appearance and feel.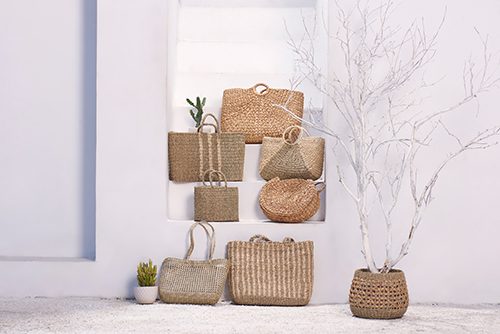 It is a cozy everyday bag thanks to the flawlessly woven shoulder straps that fit in the hand. With stylish basket handbags, you have both choice and style. Any time you add a scarf or tassel, the purse takes on a fresh look. The woven handbag is durable and will last for many years.
We give the users a meaningful gift from nature
This bag is exclusively designed for your sustainable journey without losing fashionable and trendy style. Made from high-quality natural fiber – water hyacinth, fashionable baskets handbags can completely replace the bags made of non-biodegradable materials in daily use. 
On special occasions like Christmas, Mother's Day, The Easter, … our woven handbags will become an amazing yet beautiful gift for your family and friends.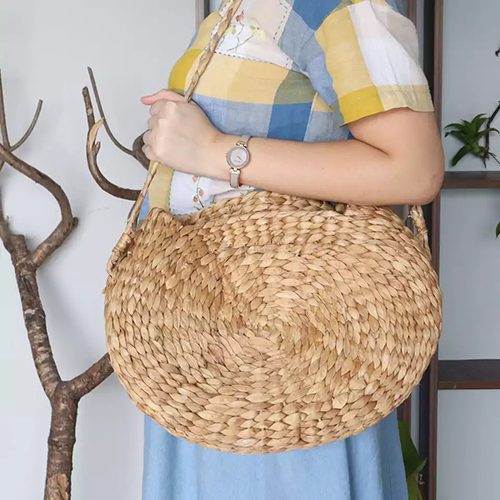 Multipurpose fashionable baskets and handbags for daily essentials
The woven handbag is ideal for any situation, including the beach, a party, shopping, a hike, a date, or just as a regular purse. For a stylish, modern look, match this fashionable bag with any outfit because it is made in neutral tones.
These fashionable basket handbags are lightweight and convenient to carry. Your telephone, sunglasses, wallet, personal items, and other everyday necessities can all fit inside. Additionally, it is spacious enough to hold the necessities without being a hindrance.
For fashionable baskets handbags wholesale, Viet Trang can offer:
–        100% handmade from eco-friendly materials
–        Domestically sourced from Vietnamese farmers nationwide
–        Handwoven by weavers from Nga Sơn Villages, Thanh Hoa province.
–        Non-toxic and sustainably produced.
–        Customizable based on clients' requirements.
Viet Trang wants to deliver the highest-quality products to our partners and make a beneficial influence on the environment through our fashionable baskets handbags. This is done through a professional approach and dedication when manufacturing products. 
Particularly, Viet Trang is prepared to develop sample products in accordance with individual customer specifications. We utilize a group of talented artisans that are always producing and innovating to better their abilities. The quality and design such as fashionable baskets handbags are fully guaranteed by Viet Trang to meet customer expectations and descriptions.
Please note that as this woven fashionable handbag is completely handmade from natural materials, these environmentally friendly handbags may have slight differences in size, shape, and color from the shown images.
Read More